September 10, 2023
Colgrass Archive Open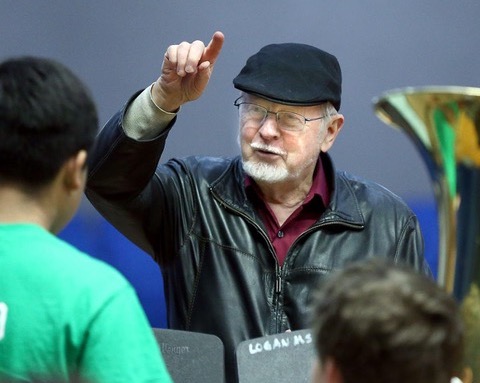 Michael Colgrass left a big trail of creativity when he died on July 2, 2019 at the age of 87. His wife Ulla and son Neal have turned their attention to his website, after sorting through the huge paper trail Michael left from his wide range of work. Since it was so diverse and unusual, it is bound to inspire other artists and had to be made available in an academic archive. For many practical reasons, the University of Toronto's Music Library was chosen. Michael lived in Toronto for 45 years, even while working internationally.
Michael began as a jazz musician and spent the early part of his career as a drummer. Composing his own works started as a fluke while in the University of Illinois, when he was challenged by his percussion professor to write his own music instead of "the boring marches" in the curriculum. Michael was excited to discover he was a composer and continued writing music after moving to New York. Here he made a living as a free-lance crossover percussionist, playing in "West Side Story", the New York Philharmonic, the Modern Jazz Quartet and recordings with Stravinsky conducting.
He decided to give up performing to concentrate on composing in 1966. From then on, a steady stream of works continued to flow from his imagination for symphony orchestra, chamber music, solo works and operas. He didn't choose composers' traditional route of teaching in universities along with composing. Instead he studied acting, singing, dancing and commedia dell'arte in Europe, wrote poetry, librettos, developed a method for children to write their own music, composed music and opera for them to perform, learned Neuro Linguistic Programming and became a therapist who cured musicians of stage fright and other phobias. His two hefty books for teaching performance skills are used in universities and conservatories, and his memoir "Michael Colgrass: Adventures of an American Composer" is a popular read.
On a personal level, Michael was equally at ease speaking on stage at the Boston Symphony Orchestra and rehearsing with famous conductors and performers as he was working with students, amateurs and children. He won a Pulitzer Prize for "Deja Vu" commissioned by the New York Philharmonic and many other prizes, but kept his feet on the ground.
Michael had tremendous energy and loved his work. Fortunately, he also had good business sense and was rather proud of making a living from his art. After he died, Ulla and Neal had to muster that Colgrass energy to sort through his packed studio, as well as many boxes of papers in storage. It took months to prepare scores, notes, letters, programs, reviews, recordings, photos, videos and documentaries, drawings, manuscripts, poems, articles, ideas, pranks … yes, Michael was a jokester too.  Every piece of paper was examined, as they tried to put things in order to save the U of T archivist from a nervous breakdown.
If you're not in Toronto, the archive can digitize materials upon request for research purposes only. In either case contact  archivist Rebecca Shaw
via this link
.
Ulla and Neal were always inspired by Michael's creative spirit and offer their help with any questions that cannot be answered by the U of T Colgrass Collection: colgrassworks "at" gmail.com.